Recipe: Maja Blanca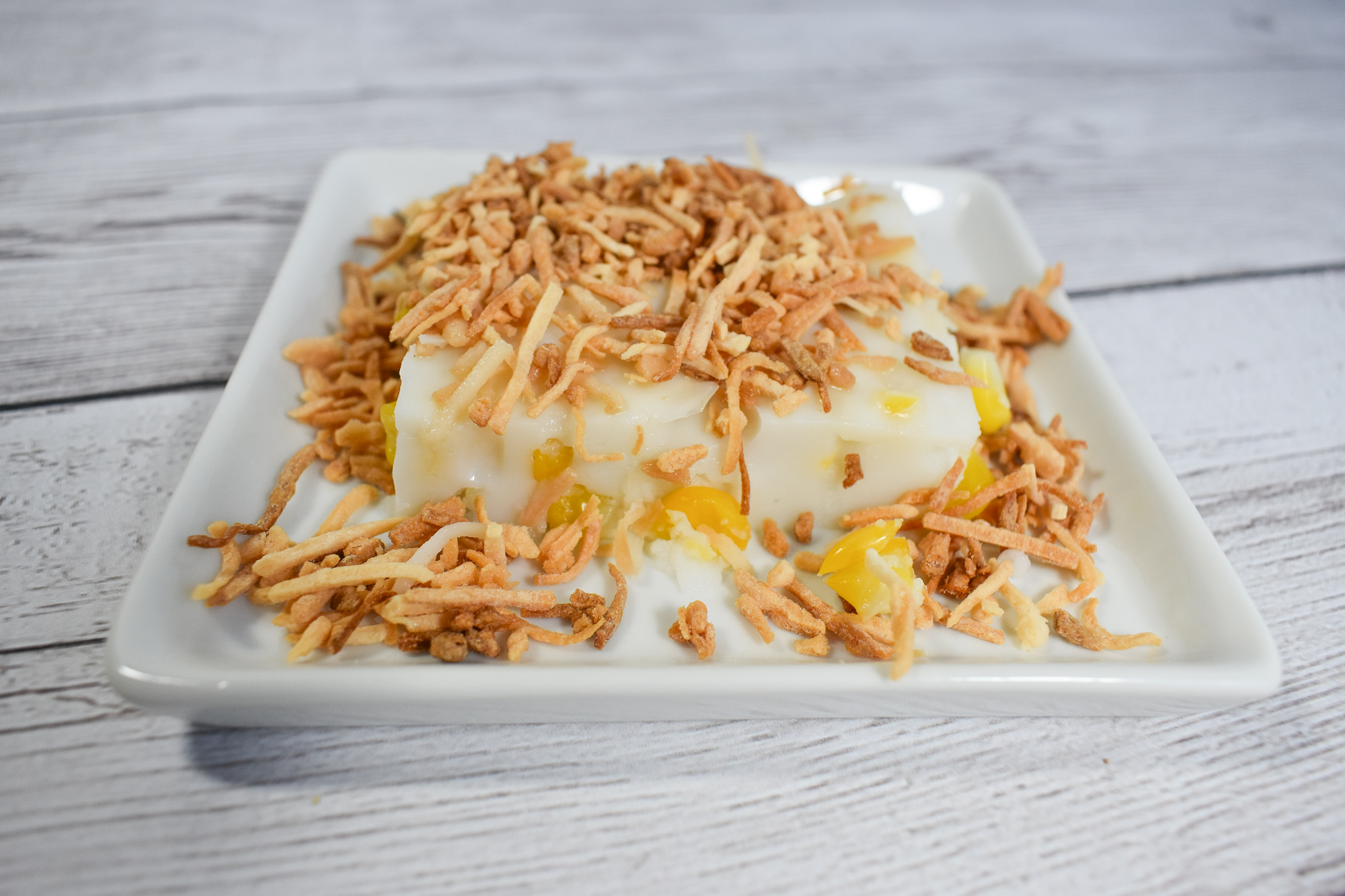 Maja blanca (Tagalog: [ˈmaha ˈblaŋka]) is a Filipino dessert made primarily from coconut milk. Also known as coconut pudding, it is usually served during fiestas and during the holidays, especially Christmas.
Description:
Maja Blanca is a Filipino dessert made mainly of coconut and sweet corn. It's light yet rich, creamy, and sweet. Has the consistency of thick gelatine and a delicate flavor, and is creamy white in color.
Brief history :
As the name suggests, the dessert is of Spanish origin, adapted from the traditional holiday dessert manjar blanco, and is thus related to other similar desserts such as blancmange. The name means "white delicacy".
Source: Wikipedia

Prepare the ff: ingredients.
Main:
1 (15 ounces) sweet kernel corn, drained
2 (14 ounces each) coconut milk
1 (12 ounces) evaporated milk
1 (14 ounces) condensed milk
¾ cup sugar (Brown white sugar)
1 cup cornstarch
½ cup water
Latik: Sweet preparation made from coconut milk
2 cups coconut cream
Procedure:
Main:
Brush bottom and sides of a large baking dish with coconut oil (from cooking the latik).
In a large pot, combine coconut milk, evaporated milk, condensed milk and sugar. Stir well until blended and sugar is dissolved. Over medium heat, bring to a boil, stirring occasionally.
Add corn and continue to cook for about 2 to 3 minutes.
In a small bowl, combine water and cornstarch. Stir well until cornstarch is dissolved. Gently add cornstarch mixture into milk mixture, whisking vigorously to prevent lumps.
Continue to cook, whisking continuously, until mixture thickens to a paste (mixture will thicken fast).
Transfer mixture into prepared dish, smoothing top with a lightly oiled spatula or knife. Allow to slightly cool, cover and refrigerate for about 1 to 2 hours or until completely cooled and set.
Latik: 
In a pan over medium heat, add coconut cream and bring to a boil.
Continue to cook, stirring occasionally, until liquid starts to thicken. Lower heat and simmer. As oil starts to separate and solids begin to form, regularly stir and scrape sides and bottom of pan to prevent from burning.
Continue to cook and stir until curds turn golden brown. In a fine mesh sieve, drain latik from the oil.
Note:
If you want to add for extra flavor, you can use the liquid drained from the can of corn kernels to dissolve the cornstarch. Just add enough water to the canning liquid to make ½ cup.
Sources:
Picture  – Rachel Pauls, MD
Yummy.ph